Safety
---
OUR COMMITMENT TO SAFETY
The primary focus at Green Country Interiors (GCI) is to provide a safe working environment for our employees. Our focus on safety provides a positive experience for both our workers and customers. We understand that a safe working environment reduces the chance for injuries and property damage, which reduces costs due to incidents, and results in a quality product that GCI and our customers can be proud of. We work hard to be diligent in our safety efforts on a daily basis, which can be seen on any of our job sites.
---
SAFETY TRAINING
At GCI, we care about our employee's well-being and our safety training helps instill that same sense of care into all of our employees. We want our employees to think about the far-reaching consequences of a potential injury and how that could affect their life and the lives of their fellow co-workers. All new employees are required to go through safety training before they even get to the job site. This training covers our commitment to safe operations and safe work practices. By the time they have completed their training, they are able to recognize safety hazards in the work place.
Safety Training Every New Employee Is Required To Attend:
GCI Commitment to Safety
GCI Policies
Hazardous Communications – HAZCOM
Fall Protection
Scaffold Safety
Task Specific Training Provided:
Aerial & Scissor Lift Safety
Forklift Operator Safety
First Aid / CPR
Heat Illness Safety
Scaffold Safety
HazCom SDS
Silica
Fall Protection Safety
Laser Safety
Stilts Safety
Hand & Power Tools Safety
OSHA 10 & OSHA 30
We also make sure that "Toolbox Talks" are held weekly at all of our job sites, where safe work practices are regularly discussed. Our office staff, foreman, and lead-men are expected to lead by example when it comes to safety on the job-site, as we are committed to creating a safety culture that moves from policies to habits.
---
AWARDS
Providing a safe work place is key to our success at Green Country Interiors, and it shows.
GCI is a 2014, 2015, 2016, 2019 and 2020 STEP Silver Award winner, a 2017 STEP Diamond Award winner, and a 2018 STEP Gold Award winner. The Diamond award is the highest honor in the Associated Builders and Contractors (ABC) Safety Training and Evaluation Process (STEP) awards program. The program incorporates OSHA required safety data with self-assessment requirements, which gives a wide-ranging report on a company's Safety Program.
---
SAFETY RECORD
The construction industry's standard for assessing performance in safety is the Experience Modifier Rate (EMR). It is based on the size of the company and the company's history of worker's compensation claims over a three-year period.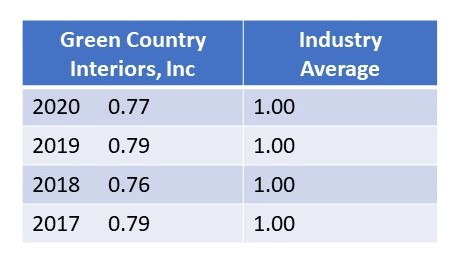 (The lower a company's EMR, the better the company has performed as compared to the industry average. As you can see below, our EMR is consistently below the industry average, which is a good sign that our safety program works.)