Oklahoma State Capitol Interior Rehabilitation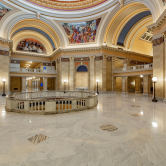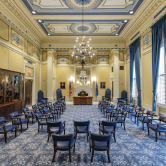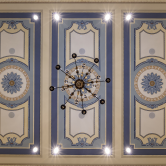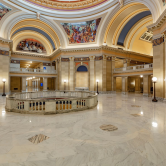 The Oklahoma State Capitol historic design standards have been developed jointly between Mass Architects and FSB-AE. These standards reflect the States goal to improve historic aesthetics, make needed repairs, and update mechanical, plumbing, fire protection and electrical systems within the Capitol. Historic interiors were constructed of durable and aesthetically-pleasing materials that have withstood
the test of time. The rich interior architectural vocabulary of stone, terrazzo, murals, ornamental plaster, doors, and trim contribute to historic character and reflect different stylistic influences. Significant interior features include staircases, light fixtures, hardware, stenciling, ceiling heights, ornamental paneling, display niches, balconies, mezzanines, mantels and fireplaces.
GCI Project Team
JJ Coyle - Safety Director
Trent Fowler - Production Manager
Paul Hannagan - Chief Financial Officer
Tim McGuire - Vice President
Jason Stone - President
Megan Woolverton - Estimator
Manuel Yanez - EIFS Foreman